Your body
Breast cancer and its treatments can cause changes to your body and the way you look. For instance, after the breast surgery you will be left with scars and may lose your hair after you have had chemotherapy. Although, many of the effects of treatment can be temporary, they can still be very unpleasant and have a negative effect on how you see your body.
It can take some time to adjust to a new body shape after breast cancer surgery. The swelling and bruising will go down and the scars from your operation will become less obvious. You'll become used to your new shape and the prosthesis if you wear one.
Tips for getting used to changes in your body
It is advisable to confront the physical changes to your body; this can make it easier to gain back your self-confidence
Here are some tips to help you get used to looking at your body:
First, it might be helpful to look at yourself in a full-length mirror fully clothed and pick out three things you really like about yourself.
After that, look at yourself in lingerie or underwear.
You can now proceed to looking at your naked body in a full-length mirror whenever you feel you are ready. Describe what you see and what you like or what makes you feel uncomfortable.
Look at and touch your scars so that you become familiar with how your body now feels.
Try to look at your body often, the more you look at it the less different it starts to look.
Breast prostheses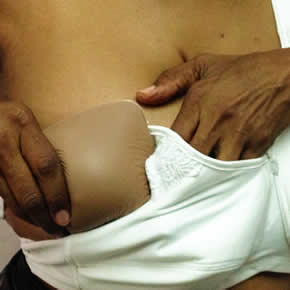 This section provides information about breast prostheses (artificial breast forms) used to restore breast shape for women who have undergone breast surgery.
Many women are often worried about how they would look after their breast surgery, if they have lost all or parts of their breast. They might worry and panic about the loss of their normal body shape and these feelings are very natural and it may take a bit of time before you start to feel comfortable with the changes to your body.
Prostheses are the fastest way to fill the space where the breasts were. It can be slid into your bra or bathing suit, making the breast appear as it did before the surgery. This is a big relief for many women, especially after losing their breasts.
Breast prostheses are artificial breast forms made from soft silicone gel enclosed in a thin film and are made to fit in the bra cup. They are designed to resemble the natural shape of a woman's breast and are used to replace the shape of all or part of the breast that has been removed due to breast cancer surgery.
Some women may decide that breast reconstruction isn't right for them but still want a breast shape, thus, opt for prosthesis to help them look balanced after the surgery. Other women might choose prosthesis as a temporary choice before reconstruction. Some women choose not to have a reconstruction or use prostheses. For some women, surgery doesn't affect how they feel about themselves, but many others find the changes difficult to accept.
Looking after your prosthesis
It is important to look after your prostheses, as you would do your own skin. Here are some ways you can do so
Wash it daily with warm soapy water
Dry it properly with a towel
Depending on the type of prosthesis, some prosthesis such as stick on prosthesis might require specific products to keep it clean
When not in use, store it in the shape unit inside the box it came in
Avoid bringing it in contact with sharp objects that can damage the silicone surface, causing it to leak
Getting your prosthesis
Breast prosthesis can be gotten at COPE. The breast care team will arrange a fitting appointment and inform you on availabilities.
Please contact the breast care team at +234 701 8000 004.
Sex, intimacy and breast cancer
Being diagnosed with breast cancer and/or receiving treatment will almost certainly affect how you feel about sex and intimacy.
You may not feel like having sex and might be unwilling to be intimate with your partner when you are dealing with breast cancer, this may be because you are worried about allowing your partner to see or touch your body.
How breast cancer affects you sexually will be unique to you. There is no right or wrong way to approach this situation. Some women might be very sensitive during this period and might need time to build up the courage to be looked at or touched by their partners while other women might need immediate comfort to relieve the fear of being rejected.
Getting back to sex after breast cancer
You may be nervous about your first sexual experience following your diagnosis or breast surgery. Most women worry that things will not be the same and these feelings are normal and it may take time for you to feel comfortable having sex again.
Tips for getting back to sex
It would take time for things to get back to normal. Avoid comparing how it was before the diagnosis to after the diagnosis.
It can be helpful to use vaginal lubricant on a regular basis will ease vaginal dryness and help prevent pain.
Try to become familiar and explore your body. It would help you discover what kind of touch is still pleasant and what hurts.
Taking things slowly at first. Think about what kind of level of intimacy you feel comfortable with and how much energy you have.
Create a atmosphere that is relaxing, this might increase your confidence. Lighting, music or aromatherapy oils can help create a relaxed, comfortable and sensual atmosphere
Lifestyle
It is generally important to keep a healthy lifestyle. It becomes more important if you've been recently diagnosed or receiving treatment for breast cancer. You need to be mindful of your diet, make sure they include lots of fruits and vegetables. Also you need to stay physically active. However, consult your doctor before embarking on any form of exercise. Cancer journey is not an easy one. You may wish to join our support group for various types of support that we offer depending on your needs.